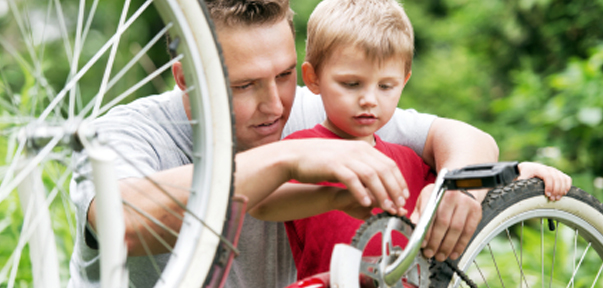 Paternity | Parent Visitation Rights
Because visitation rights and support obligations are based on the biological relationship between parent and child, establishing paternity is often a necessary first step for mothers seeking child support and fathers seeking custody or visitation. Under Tennessee law, there are several situations in which a presumption of paternity exists and no court process is necessary to establish paternity prior to child support or child custody proceedings, including:
1. The parents were married to each other at the time of birth or within 300 days prior to it.
2. The parents married after the child's birth and the man registered as a putative father, consented to be listed on the child's birth certificate or consented to provide support to the child.
3. The man has brought the child into his home and held him out as his son or daughter.
While these circumstances create a presumption of paternity, they can be rebutted in court by clear and convincing evidence.
For Fathers:
In Tennessee, the biological mother, if unwed, is automatically recognized as the child's legal parent and custodian upon birth. The biological father of the child must take affirmative legal action to establish his right to be a parent. That action is taken by filing a Petition to Establish Paternity. Once paternity is established (either by agreement of the parties or by DNA testing), the parties may either agree to a co-parenting schedule or ask the Court to hear testimony and evidence and enter a permanent parenting plan that is in the best interests of the minor child. Child support issues will also be determined in these proceedings.
Both Mothers and Fathers have the legal right to parent their children and be afforded all the parental rights afforded to parents in the State of Tennessee; however, the law requires that you assert those rights in a court of law. The Law Office of Brad H. Frakes can help you establish your parental rights and can help you determine your financial obligations for the child, as well. I strongly recommend that fathers take immediate action to establish their parental rights rather than waiting to see "if we can just work it out." It is advisable to assert your legal rights immediately.
For Mothers:
Mothers, if unwed, in the State of Tennessee are automatically recognized as the child's legal parent and custodian upon the child's birth, this also means that until you take legal action, you are also solely responsible for the financial support of the child. In the event that the child's biological father is not making voluntary child support payments, you must file a Petition to Establish Paternity and Set Child Support in order to make him legally obligated to do so. His paternity must be established by agreement or by DNA testing, if necessary.
Once paternity is established, the Court will require proof of income from both parties so that the correct amount of child support can be determined. Be advised that when you file a paternity action, the father is entitled to file a counter-petition asking the Court to enter a parenting plan providing for specific parenting time. If the parties cannot agree on a co-parenting schedule, many times mediation is either required or favored by the local Courts. At mediation, the parties are assisted by a neutral mediator in trying to reach an agreed upon parenting plan. If no agreement is reached, a hearing will be set. At that hearing, the Court will engage in a best interests review. This review involves many factors, including the emotional ties between each parent and the child; the ability of each parent to care for and provide for the child's basic needs and education; stability and continuity of the child's life; the parent's mental and physical health; the child's school and community records and the preference of the child, if over age of twelve.
You need a dedicated and experienced divorce lawyer working with you to protect your rights as a parent. Call the Law Office of Brad H. Frakes at (615) 248-7854.